It finally feels like the holidays have started!! havent had much free time due to all the dancing...but i now have a free week ahead! =) Gonna put it to good use and do the much-needed packing thats long overdue.

Results are out and THANK GOD for them...like really. I mean, despite everything that has happened and how busy i was during the sem, i still managed to get good grades! Really dont think i could have done it all by myself. Also extremely grateful to groupmates who helped out sooo much and who were so understanding.
Havent really been bloggin cos there isnt much to say...i really hate hiding and lying and all the concealment thats been going on.
Ok, so we made a mistake...can we just admit that we made a mistake instead of looking like we're trying so hard to cover it up? The truth is bound to come out sooner or later and i'd rather be the one who ACKNOWLEGDES it then wait for someone to 'discover' it. Maybe it sounds freaking selfish, like im only thinking of myself and not the rest of the people who are involved, but i feel that it'd be much easier on everyone if it was out in the open and people didnt have to COVER UP for us...
I was totally against this whole concealment thing in the beginning...but all i hear is 'you didnt understand what happened the last time'. Ok..so maybe i wasnt there when it last happened but hey...if they cant accept it, so be it. I mean, what kind of example are they setting if they were really as bad as that? No one has the authority to judge, and everyone makes mistakes - im not perfect.

I wonder when all this hiding and lying will end. its driving me nuts...i cant even go down to PP anymore.
Nearly 2 months have passed and its incredible how much can happen in that short space of time... Really really really grateful and thankful to the people around me who are so supportive, to D who took things so well (*smiles) and to God whose hand is soooooo OBVIOUSLY in everything.

Hmm..this incident really made me realise who are the people i really care about and who really matter; friends and family who really rose to the occassion. Then there are the people who i feel no sense of affinity to - i just didnt feel like telling them anything. I mean, must i explain myself to everyone - in the most brutal way of saying it, "I dont owe them an explanation".

Exams are around the corner and i'm starting to feel like i wont be able to finish preping for it in time! There's still a large chunk of assignment to be done for a module, and the rest of my papers are like worth 40%-50%, which could really determine whether i pass or fail the module...and at the moment, grades dont matter anymore. =)


Oh...and to Darren, i dunno if you read this, but im FED UP with you. Dont bother calling or msging me cos im not answering - and yes you are still TRYING TO CONTACT MY SISTER. I dont think you're stupid, so you're bound to realise that we do TALK at home so i know when you msg her and stuff. Really, what is your motive? Stop trying to tell me that you're not interested in her and stuff cos its definitely UNBELIEVABLE, or that you are "shocked and hurt" that i could actually "accuse" you of trying to be more then friends. YOU said you'll stop trying to contact her so keep to your line and DO WHAT YOU SAID.


On a brighter note, i wanna have a THANK YOU BBQ for all the girls after the exams and a proper birthday celebration for Yeong Min! (sorry your birthday is always not celebrated properly cos its near exams!) Suggest a date - especially XY! when will you be free?
Uncle William's message on Sunday was really meaningful.

And i will cross the River of Jordan with faith.
I just saw this on the latest news...
http://www.straitstimes.com/Latest%2BNews/Singapore/STIStory_209262.html

and i cant believe it. Was in biz school doing a subject pool experiment at 2 when we heard this loud bang. Then when as i was walking back to FASS, i saw this crowd of pple and policemen around a cordoned off area with lots of fallen trees and some crushed motorbikes.
.
.
.
.
.
A collapsed crane and 3 men died.
They were still trying to get 2 trapped men out when i walked past.



Who are we to think of how great we are when we cannot even predict what is to happen the next minute?
The awesome power of God.

HAPPY VALENTINE'S DAY to everyone! =)
The day started pretty late cos ballet class finished at 7 plus...(poor D waited abt 1.5hrs.OPPS.) Sent one of the girls home and we eneded up touring Hougang cos we werent really sure of the way. LOL. so we decided to just order Sarpino's Pizza and head home for a cozy night in front of the TV watching X-MEN! (Ok...its not a very romantic movie but we enjoyed it!) At least we didnt have to fight with other couples out there splashing extravagantly and taking up dining space!! Anw...enjoying each other's company is abt the most blissful thing ever. =)

Sent the faulty HP for repairs...and i think Samsung has better service then Nokia! not to mention shorter queues as well. the lady was nice enough to suggest that they change my metallic cover too since my hp is gonna be with them for repairs (it was peeling). YAY.

Just realised the immense amount of workload that needs to be done...! Thank goodness next week is E-learning week for ALL NM modules - dont have to come for classes the entire week (except for the history mod that im taking).

Here's my To-Do list:
1. Organisational research paper
2. CBTS final draft
3. Research for 3 different projects
4. Readings for ALL modules

Goodness..i wonder if its even possible to finish them. (im in lecture now and my lecturer is asking if anyone has mandarin oranges so that he can soothe his throat!)

Oh yes...and this is an old photo! totally forgot to upload and send it out to everyone...hahaha. opps! Its the Touchkidz reunion at Marche. =)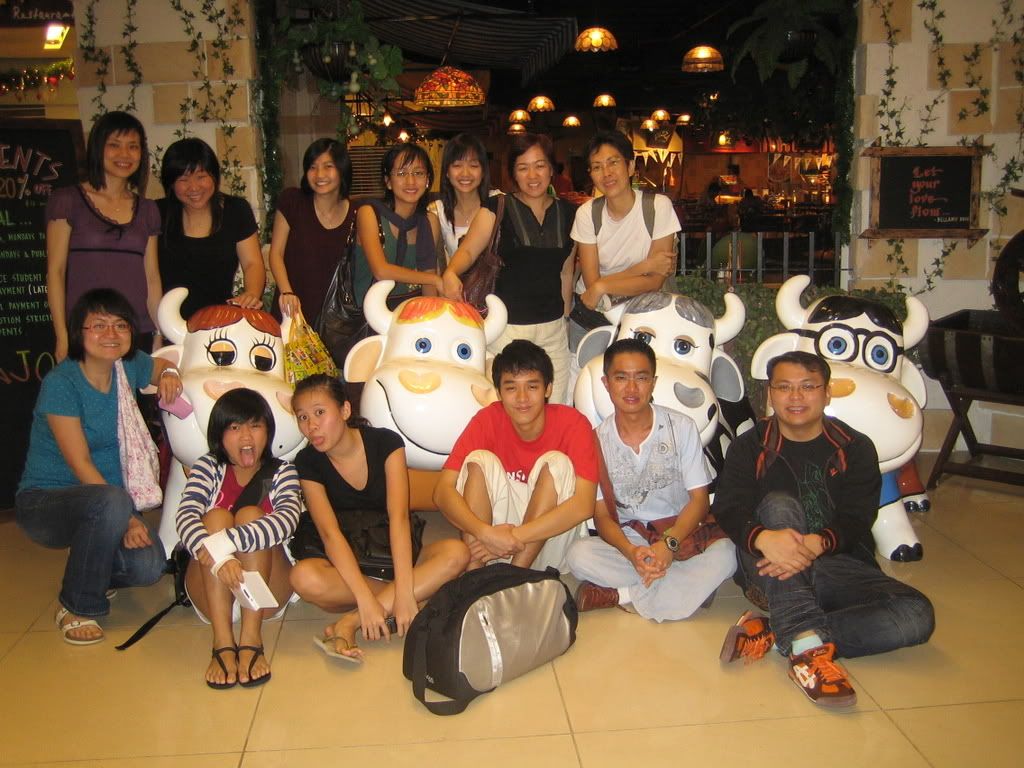 and i saw this crazzzyyy car downstairs my house!! totally cool!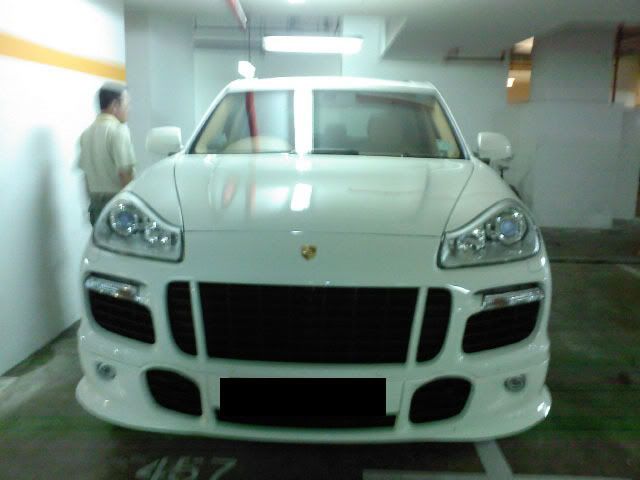 Finally changed the layout of my blog - loving the little elephants. Anw..how i manage to find time to do it is bcos the lecturer is going through the lecture that he has already prepared and posted online! (plus we have all watched it) kinda redundant. He is trying really hard cos its the first time that he's lecturing but sigh...he's so messy! everything is so haphazard and his instructions keep changing non-stop! my goodness...so confusing. i wonder how NUS got its ranking and reputation!!

Hmm...will be driving back to Ipoh tonight. Starting off at 10pm cos we wanna avoid the jam!! but this round it should be better cos there are 3 drivers - my brother is going back with us too...=) then i can have some time to sleep and rest. been really tired recently..esp after the weekend...owells...HAPPY NEW YEAR!
Hmmmm...today turned out to be a much better day after the extremely 'angsty' mood last night. And i still resent going back for CNY.
D and i spent an hour soaking up the good CNY festive mood last night at Chinatown...but the things were pretty much the same...nuts, mua chee, deco, etc...plus the prices were pretty much jacked up too. We ended up just having mango with pomelo and sago at the usual fav store before heading home.
Had a few rounds of Carem today too and it was quite funny...i dont really know how to play and realised that the last i aim, the better! managed to FINALLY score it off with D in the last round (of cos he gave way a bit i think!) before he headed home for some much needed sleep.

The days are getting busier and busier and sometimes i just wonder if im trying to do too much. Hmm. must remain focused and give priority to the things that really matter. =)

oh yeah...was talking to Caleb last night and he was asking me to join him in a baking session tmr. Well, im not free as its a Sat and i've kinda given up helping with the baking of birthday cakes etc...cos after helping out with lots of cell members' birthdays and attending their celebrations even if it meant rushing from dance...somehow it just does NOT seem worth it. And very strangely, despite the hassles of doing up birthday cakes for pple, i didnt get one on my birthday...and not only that, there wasnt even a birthday greeting or anything of that sort (save for Pearson and Nicole who remembered!).
YEs yes yes..i shouldnt be childish and learn to step above such superficial stuff..but it just goes to show who your friends really are right? and then again it leads me to question the kind of relationships i have with the pple at church. it all just seems very superficial - the 'hi' and 'how have u been' every weekend.